Download Yamaha YZF600R (YZF-600R) Repair Manual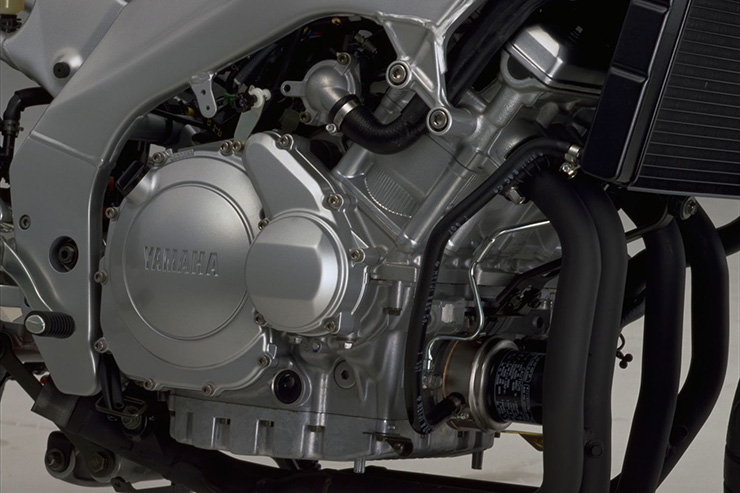 Yamaha YZF600R repair manual, termed YZF600R service manual or YZF-600R workshop manual, is a book of motorcycle repair instructions that guides a mechanic on how to fix, service or overhaul the sport bike made by Yamaha back to working order. The downloadable handbook is instantly attainable and applies to 1997 thru 2007 Yamaha YZF600R models. The digital book of instructions for learning how to fix or mend the 599 cc two-wheeled vehicle can be transmitted directly to a computer, tablet or smartphone in seconds. Download YZF600R repair manual here. 
The electronic version of a Yamaha YZF600R repair manual is identical to a paperback book you would obtain at a motorcycle parts store or local dealership, except it's in digital format. It is a scan of a paper book and put into PDF format, which is file format that provides electronic image of text, pictures and graphics that looks identical to a printed book. When the download of the manual is complete, the digital book or repair instructions appears on the screen. No special software is needed to download and view the book, and you can save the YZF600R manual to your digital device forever.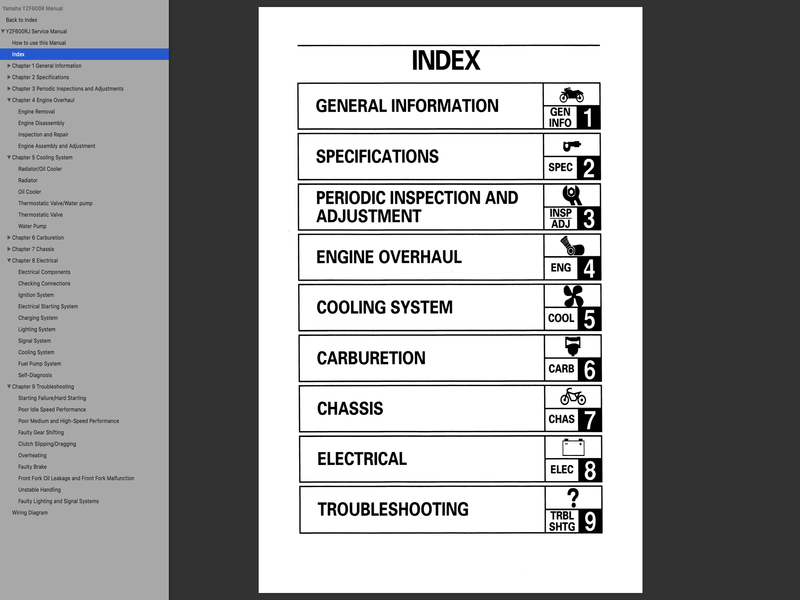 As with all motorcycle repair manuals, a Yamaha YZF600R manual contains a cover page, index, including a clickable index, main chapters and sub-chapters. The main chapters in a Yamaha YZF600R manual include the following:
General Information

Specifications

Periodic Inspection and Adjustment

Coolling System

Carburetor

Chassis

Electrical

Troubleshooting
The manual covers maintenance, service and repair instructions for the entire vehicle. That includes step-by-step part removal procedures, disassembly, inspection, repair and reinstallation of the vehicle's main components. The manual also provides instructions on how to carry out tests to measure or check the quality, performance or reliability of parts so as to determine if the part is faulty. Most importantly the digital handbook incorporates a troubleshooting guide that is meant to aid the mechanic on how to trace and correct faults within the motorcycle's mechanical or electronic system.
The Yamaha YZF600R 599 cc (36.6 cu in) sport bike has remained mechanically the same from 1997 thru 2007 models. Mechanically, the engine and all of the bike's components are identical, although there could be some aesthetic updates. Because of that, a Yamaha YZF600R repair manual does not require a supplement manual. The original Yamaha YZF600R manual, LIT 11616-10-55, is the only manual that you should use to perform maintenance, service, troubleshooting or repairs when working on your street-bike.
References
Freeman, H., (2008) .Yamaha YZF600R Service Manual.(London) 29 March (https://www.autopartsrepairs.com/yamaha-yzf600r-yzf-600r-repair-manual/ last accessed on 20 February 2020)'
Rivoli, P. (2005).What is a motorcycle repair manual: John Wiley and Sons. https://www.paypervids.com/motorcycle-repair-manual/