The Importance of Automation in Service Industries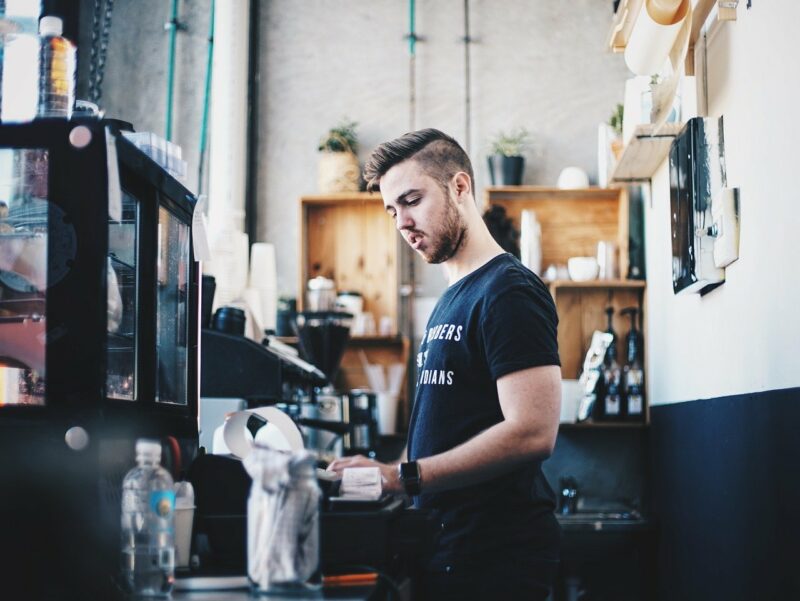 Advancement in technology for the last twenty years has led to development of services companies/organizations provided for their customers. Organizations are using all strategies to attract customers and to satisfy them. One of the strategies being used today is self-service. The many advantages associated with self service have encouraged industries to use it. The introduction of technology in provision of services enables the customers to perform the service without any assistance from the organization staff (Khosrowpour 1996).
Technology in the service industry has changed operations from human contact to machine assisted service and to electronic service. The common industries where this strategy is used include grocery, banking, airlines, restaurants, Movie Theater, book store and education (Khosrowpour 1996).
In the banking industry the service has changed from teller operation, to use of ATM and online banking in order to allow self service. Use of ATM and online banking enables the customers to use any service without the bank staff assisting (Khosrowpour 1996).
In grocery, there is a move from checkout clerk to self-check out station and online order/pickup. Customers are able to order groceries via the internet without involving human contact (Cheng 2007).
In the education industry, there is a move from the use of teachers in teaching to computer tutorials and distant learning. Today people are getting degrees and masters via online through distance learning without entering physical class. Most international universities are now offering e-learning because the demand is high (Cheng 2007).
In the airline industry, there is a move from the use of ticket agents, to the use of check-in-kiosks and print boarding passes. Air passengers do not have to obtain an air ticket from the agent in order to travel. They can obtain the pass online which is very easy and convenient (Cheng 2007).
In the bookstore industry, there is a move from use of information clerks to use of stock-availability terminals and online shopping. Amazon Company is an example of companies that are using technology to provide this service (United States Bureau of Labor Statistics 2008).
In the restaurant industry, there is a move from use of waiters to use of vending machines and online order/delivery. This is enabling restaurants to serve many customers at once (United States Bureau of Labor Statistics 2008).
Importance of automation in service industries
Automation in service increases the availability of services as compared to use of traditional methods. Availability of services enables the industry to reach many customers/clients as they can obtain them any time. Automation in service allows the services to be provided 24/7. This means that the organization involved in automation service will be able to win many customers and make more sales hence high profitability (United States Dept. of Labor 2008).
Automation in the service industry allows screen-to-face encounter rather than face to-face-encounter that is the case with traditional service provision. Screen-to-face encounter enables the organization to provide services in quick manner and it avoids discrimination. For example, when using the automated teller machine in a bank, the services are quick and non discriminative as compared to when withdrawing from the counter through the teller (United States Dept. of Labor 2008).
Services are more accessible when services are automated. Travelling expenses in terms of money and time are avoided as the services can be obtained anywhere. Automation machines are located everywhere so that the clients of a certain bank do not have to travel where the banks are located. The ATMs have enabled the clients to make withdrawals and deposits anytime and anywhere (United States Dept. of Labor 2008).
Automation in the service industry enables the organization to reach worldwide market areas instead of just reaching the local market. Use of the internet in providing services enables the company to reach many customers without travelling to their definite locations. This increases the expansion of the industry to the international market. Today companies and organizations are increasingly operating on international markets because of automation in services they provide.
Automaton in the service industry allows the customers/ clients to make payment by use of credit cards instead of using cash or cheques. Carrying a credit card is very safe as compared to carrying cash when making payment. Also, the payment process is easier, quick  and accurate when using credit cards for payment, the organization therefore avoids losses due to incorrect payments and other common mistakes and errors that happen when making cash payments (United States Dept. of Labor 2008).
Differentiation enables the organization to gain competitive advantage, when services are automated differentiation becomes more convenient for the organization. It is more convenient to differentiate services electronically than using traditional methods. Differentiation makes services look unique hence preferred by the customers/clients (Grönfeldt & Strother 2006).
Automation in service industries promotes the privacy of customers. The privacy in this case is anonymity; there is no social interaction when services are automated. Customers are encouraged to use a service that they can obtain privacy that is anonymous. Use of ATMs provides this kind of privacy hence encouraging many clients/customers to use them (Grönfeldt & Strother 2006).
Conclusion
Evolution in self service is making industries move from human contact, hence reducing the costs associated with it. There is increased expansion through automation of services as it is easier to reach worldwide markets.
Bibliography
United States. Bureau of Labor Statistics, 2008, "Occupational Outlook Handbook, 2009″, Skyhorse Publishing, New York
United States Dept. of Labor, 2008, "Occupational outlook handbook 2008-09".Washington, D.C. : U.S. Dept. of Labor Bureau of Labor Statistics, 2008.
Cheng H,2007, "Service enterprise integration : an enterprise engineering perspective",Springer,New York.
Grönfeldt, S & Strother, J.B,2006, "Service leadership : the quest for competitive advantage", SAGE Publications,Thousand Oaks
Khosrowpour, M, 1996, "Information technology management and organizational innovations : proceedings of the 1996 Information" Resources Management Association International Conference, Washington, D.C. Idea Group Pub., Harrisburg, Pa.