Moment of Truth in the Service Counter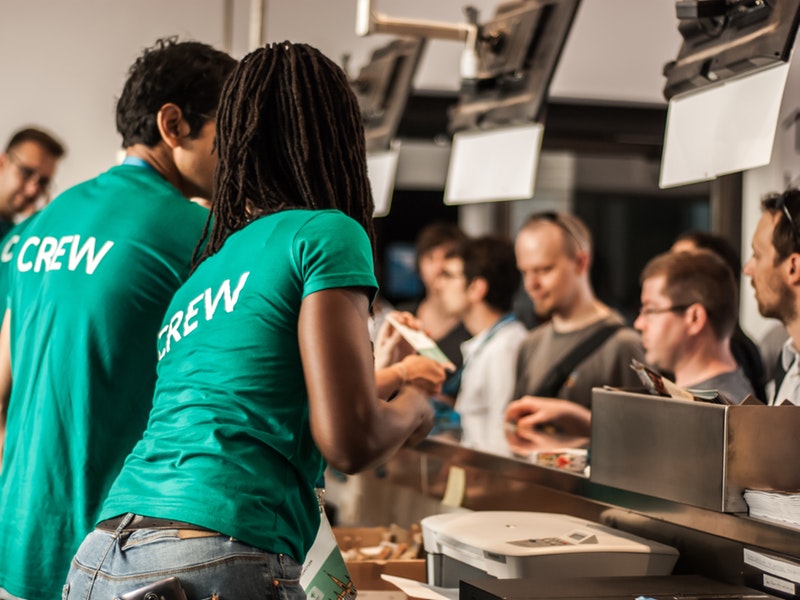 Moment of truth refers to contact or interaction between customers/ clients with an industry or organization that gives the customers an opportunity to form or change an impression about the industry or organization. This interaction is through a product, sales force, or visit. This is why Fitzsimmons and Fitzsimmons explain that moments of truth are critical in achieving a reputation for superior quality. Carlzon (2000) describes the moment of truth as the point of contact between the customer and employee of the industry, and these are the critical occasions, which determine a customer's satisfaction in a service encounter. In order to achieve service quality in the service industry, there is need to adopt a strategy of empowering the employees to provide higher quality moments of truth by inculcating the spirit of service.
Elements that impact on the moment of truth in the service encounter
Service organization
For an organization to be efficient in service delivery, and to adopt a cost leadership strategy, it is required to standardize service delivery by imposing strict operating procedures and hence, severely reducing the discretion of the contact personnel. Service organization establishes the environment for the service encounter. The interaction between customer and contact personnel occurs within the context of an organization's culture and its physical surrounding. Managers within the serve organization establish a culture that prescribes a norm of behaviors or set of values to guide employee decision making in the industry (Bateson 1987). The choice of language can be used by the organization to communicate value to employees. Organizational values when consistently communicated by management permit contact personnel to act with considerable autonomy, since their judgment is found on a shared set of values. The organization benefits from a shared set of values, because the contact personnel are empowered to make decisions without the need for the traditional level of supervision, with its assumption that only management has the authority to act on behalf of the organization. Empowered contact personnel on the other hand must be motivated, informed/ competent, committed, and well trained. Front line personnel must be in position to exhibit the ability to take responsibility, manage themselves, and respond to pressure from customers.
Contact Personnel
Customer contact personnel is required to have personality attitudes such as flexibility, tolerance for ambiguity, an ability to monitor and change behavior on the basis of situational cues, and empathy for customers. In order to ensure high-quality moments of truth in service encounter, contact personnel with necessary interpersonal skills must pass through a selection process (Walker 1995). The selection process involves abstract questioning, situational Vignette, role playing and training.
Abstract questioning provides insights concerning an applicant's ability to relate the immediate service situation to information collected from past experience. It is also used to reveals an individual's willingness to adapt. Situational vignette requires the applicant to respond to questions regarding a specific situation. It provides an opportunity to determine whether applicants are able to think on their feet. Role playing requires an applicant to get involved in a simulated situation and react as if the service environment was real. It provides an excellent opportunity to observe applicants' strengths and weaknesses in a realistic customer encounter (Wehrenberg 1987).
Training is undertaken to explain to the customer-contact personnel the technical skills needed to perform their tasks. Training also enables the contact to deal with difficulties with interactions between customers and contact personnel (Albrecht 1985).These difficulties include unrealistic customer expectations and unexpected service failure. Contact personnel with training and interpersonal skills that can prevent a bad situation from becoming worse are able to deal with unavoidable communication difficulties with customers. General training in communication skills help contact personnel to anticipate the types of exchanges they are likely to encounter, expand their repertoire of possible responses, and develop decision rules for choosing appropriate responses to a given situation.
The customer
Any purchase that customer makes is important to her/him, but to the service provider that transaction is considered a routine. There is emotional involvement in every purchase made by a customer; contact personnel should therefore be in position to maintain a corresponding level of emotional commitment. This involves looking at customers' expectations and attitudes; service customers should be motivated to look for a service just as they would do for a product and their expectations should govern their shopping attitudes. In service encounter, customers should also be treated as co producer; both the customer and provider have roles to play in transacting the service. The roles the service customers should perform have been defined by the society. Teaching a customer a new role is only possible if the transition becomes a logical modification of past behavior (Carlzon 2000).
Conclusion
The key elements that impact on moments of truth in service encounter works to ensure that there is high quality of services provided and customers are satisfied with those services.
Bibliography
Albrecht, K. (1985). Achieving Excellence in Service. Training and Development Journal, 39 (12), 64-67.
Bateson, J. (1987) Perceived Control and the Service Encounter. Lexington Books, Lexington, Mass.
Carlzon, J. (2000) Moments of Truth. Ballinger, Cambridge: Mass.
Walker, J. A. (1995). Service Encounter Satisfaction: Conceptualized. Journal of Services Marketing, 9(1), 5-14.
Wehrenberg, S. (1987). Front-line Interpersonal Skills a Must in Today's Service Economy. Personnel Journal, 66 (1), 115-118.