5 Online Businesses That Make Money Without Startup Capital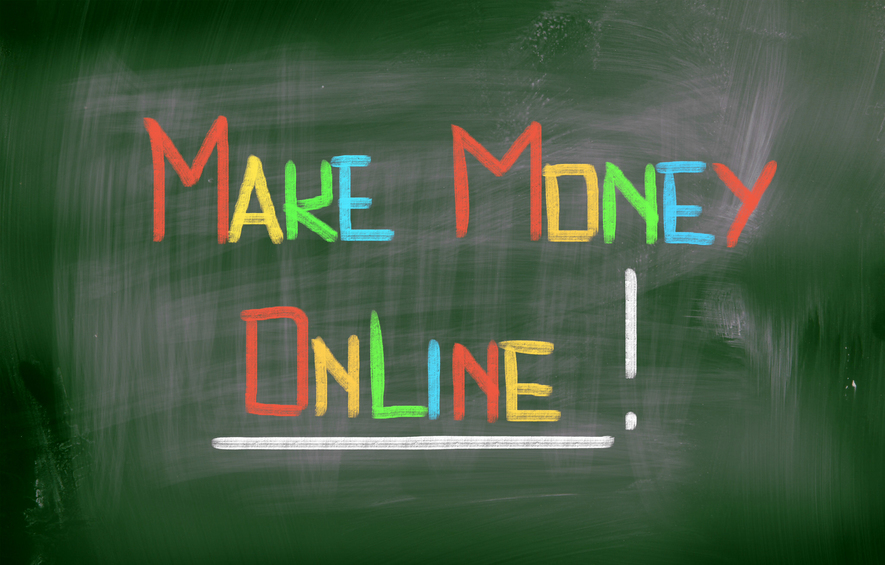 Two of the reasons why people are drawn to making money online is that there are no barriers to entry for many industries, and often times you don't need start-up capital to launch a business, and even if you do, it's a miniscule amount compared to traditional, brick-and-mortar competitors.  If you don't have a lot of money but are looking to try to earn an online income, here are five industries that might interest you.
1. Online Surveys
Be under no illusions, this is an industry that's absolutely saturated with scams, frauds, and con artists.  Additionally, even if you excel at it, the most you're probably going to make is low-level supplementary income.  If you're making a $100 a month, that's actually pretty good. 
Yes, there a people who do make more than that, but set your sites at making a $100 a month, see how much time it takes to reach that goal, and then determine whether there might be other industries with a higher payout. 
If you're interested in this market, then one of the chief resources that you should be using to find legitimate sites is Survey Police.  They provide a great database of survey companies along with customer-rated rankings and online chat rooms for good measure.
A few cardinal rules you should follow when it comes to online surveys are:
A) You should never have to pay money to participate in online surveys.  Such sites are almost always scams and can lead to full-blown identity theft,
B) You should always create an email address that's used specifically for survey sites.  Even when you're working for legitimate companies, your primary email address can be overwhelmed with spam.
C) Understand that many surveys are very specific in terms of the consumers that they're looking for, so you will often be disqualified from well-paying surveys because of factors beyond your control.
2. Home-Based Micro-tasking
Sites such as Fiverr and Amazon's Mechanical Turk are two great examples of home-based microtasking, and when it comes to how much money you can make, that depends completely on how much time you're willing to invest.  Additionally, while you might start out at $5.00 a gig on Fiverr, once you build a reputation and climb up the ranking ladder, you can charge much more for your services, and there are folks who are able to make a full-time living at it.
Perhaps one of the best ways to test these sites is to establish a monetary goal.  Let's say you want to make $200 from each site.  From there, practice backwards-mapping when it comes to reaching these goals, especially how many man hours it took to reach the goal, as well as whether or not the work was engaging and enjoyable. 
Fiverr might have Mechanical Turk beat in regards to personal enjoyment, but finding work, especially when you're just starting out at Fiverr, can also be incredibly difficult and frustrating. 
As a final note (and because I'm such a nice guy!) here's a list of twenty apps from gobankingrates.com that you can download onto your smart phone that can also earn you free money. 
Some of the apps focus in home-based microtasking, and some of them focus on proactive microtasking.  What is proactive microtasking?   
3. Proactive Micro-tasking
Sites such as TaskRabbit and GigWalk are great examples of proactive microtasking.  You actually have to leave the house to complete your gigs, and jobs you can get paid for include mowing lawns, moving furniture, putting together IKEA bookshelves, taking pictures for Bing.com, etc.
There are people who are able to make a full-time living with sites such as TaskRabbit, but of course, some of those jobs require technical skills such as plumbing and carpentry, as well as sweaty and exhausting labor such as moving thousands of pounds of furniture.
4. Affiliate Blogging
While this one takes a little bit more time to see any economic return, it's a great option for people who love writing, who have large social networks, and who also have some experience in marketing and advertising. 
Even better, affiliate blogging is a great way to earn long-term passive income online, i.e. being able to pursue your own passions, hobbies, and interests while money is still coming in from a blog post that was published days, weeks, months, or even years ago. 
The process is simple.  First, think about a market niche that you're passionate about.  Second, start up a WordPress blog (which is absolutely free).  Third, sign up for the Amazon Affiliate Program.  Fourth, start blogging, while being sure to add both Google keywords and affiliate links.  Fifth, market the hell out of your blog with every tool you have at your disposal – Facebook, LinkedIn, Twitter, Pinterest, StumbleUpon, business networks, college alumni networks, etc.
You don't have to build up massive online traffic in order to make money through affiliate blogging.  You just need to build up a few hundred loyal readers and subscribers in order to start seeing commission checks. 
As a final note, the more that you can make your website into an authority site (i.e. people go there for honest content and honest reviews), rather than behaving like a used car salesman, the more loyal your readers will be, and the greater the chance that they'll buy products from your site.
5. Are you sure you're financially broke?

 
Many folks have found great income through eBay, and often times they way they started their eBay business was to go through their attics, closets, and garages to see if there was any valuable merchandise that they could sell online for a profit.
From there, it's a business where products can be attained through garage sales, estate sales, flea markets, abandoned storage lockers, city dump days (i.e. finding "junk" that can be fixed and sold for a profit), as well as keeping your eyes open for corporate merchandise being sold at bargain-basement prices that can be turned around for a profit (especially for folks living outside the United States that are hungry for designer brands and merchandise). 
Conclusion – It is possible to make a nice income from the internet without having to invest any of your own financial capital.  But your time is also a commodity, so it's important that you stick to a cost-benefit analysis when it comes to what industries you want to pursue long-term. 
You should also be under no illusions, especially when just starting out.  If you're honestly looking to make a full-time living on the internet, you've got many late nights ahead of you in order to make enough money to pay the rent and bills.  Clocking sixty to eighty hours a week should come as no surprise, even when it comes to the industries listed in our article. 
At the end of the day, if you're looking to make a full-time living off the internet, then you're not looking for a job, you're actually looking to start a business, and as with any business (especially in the beginning), you should be conscious of the time commitment needed for success. 
[siteorigin_widget class="SiteOrigin_Widget_PostCarousel_Widget"][/siteorigin_widget]