Are We Alone In The Universe?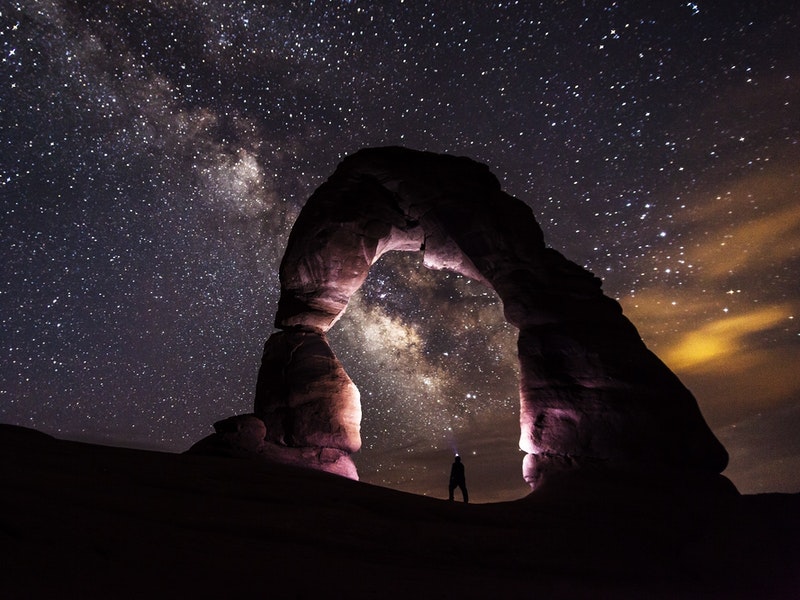 To ask that question and get the response you're looking for is a ridiculous expectation. The question "Are We Alone?" is so vague and open ended that the answers are limitless, astronomical in fact. If I posed the same question however and added "…in the universe?" answers would be a lot different and more concise. Some believe, some doubt, others would cry out "blasphemy!" however everyone has an opinion. Personally, I believe we are not alone in the universe. Some enthusiasts, or ufonians, can categorize specific evidence, recall dates, times, events, and the conspiracy theories our government has been using to cover up these encounters for the better part of the century. It would be comical to think that we are alone in the universe, downright ignorant and arrogant of the human race to think that we are the only form of intelligent life.
When you think of evidence of extraterrestrials one should use certain categories to decipher the specific events. There are eight separate categories, according to Dr. J. Allen Hynek of the USAF Project Blue Book, that are used to differentiate the encounters; eye witness reports, photographic evidence, video footage, bodily physical traces, radar images, environmental traces, historical evidence, and hard physical evidence. Out of all eight categories most encounters fall under eye witness reports, video footage, or photographic evidence. Some people wouldn't credit eye witness statements because sometimes the eye witness in question is of a questionable nature. But how can someone doubt an eye witness if the same report came from two different witnesses from opposite ends of the same city?
A one, Peter Davenport of NUFORC (National UFO Reporting Center), reports two separate incidences in Stephenville Texas, one witness was a pilot and the other was a group of real estate agents. Both witnesses included identical descriptions of the craft being a half of a mile wide and a mile long. Most importantly both the witnesses also stated seeing a military aircraft "chase" the flying object. One witness was quoted saying "I've flown planes for 30 years and still fly on a regular basis and I have never seen anything like it," (About.com UFO/Aliens). When the United States Air Force was contacted for questioning by NUFORC the response was denial of having any aircraft in the air at the time of the sighting. If the USAF is telling the truth, then this account cannot be explained away by being any of our aircrafts, and if that is the case then who was chasing the UFO?  Another example would be the "Phoenix Lights", where literally thousands of people from five different cities surrounding Phoenix reported the same sighting on the night of March 13, 1997 between the hours of 7:30 pm and 10 pm. Some witnesses recalled "yellow-white lights" or "amber colored lights" on an object of "immense size". One gentleman was said to have seen the city lights of Phoenix on the bottom of the craft as if it "blocked out the stars", (About.com UFO/Aliens).
My last example is one of the most famous sightings, that of Lonnie Zamora of Socorro Mexico. This case would raise a number of questions about the existence of UFOs to local law enforcement, the CIA, the FBI, and what used to be known as Project Blue Book. On April 24, 1964 a 31 year old police officer from Socorro Mexico had his life change by witnessing an oval shaped object crash in front of him leaving deep landing marks in the ground and a piercing memory of a red insignia. The CIA reports, "…there is no question about Zamora's credibility. He is a serious police officer…a man well versed in recognizing airborne vehicles…this is the best documented case on record, and we still have been unable, in spite of thorough investigation, to find the vehicle", (About.com UFOs/Aliens). That statement coming from an officer of one of the governments highest agencies leads me to believe the reliability of this encounter. Dr. J. Allen Hynek of Project Blue Book went on to say, "There is much more evidence to indicate that we are dealing with a most real phenomenon of undetermined origin", (About.com UFOs/Aliens).
What is Project Blue Book? How come no one has ever heard of it? Project Blue Book was a government group created by the United States Air Force originally to study UFOs and document encounters for the purpose of research. The group started in 1952 (shortly after the Roswell New Mexico crash in 1947) and was headed by Captain Edward J. Rupelt.  Rupelt was one of the first to lead a serious effort in the understanding of UFOs. He was on cases such as The Lubbock Lights and The Washington Wave of 1952. His scientific consultant, Dr. J. Allen Hynek, developed a system of organizing and categorizing UFO sightings. He would later coin the phrase "close encounters".
As the years progressed Project Blue Book would change their respected heads of department twice, once in 1956 with Captain George T. Gregory and then again in 1958 with Major Robert J. Friend and both of these men were labeled as "anti-UFO". What started out as a legitimate and reputable study group soon turned into a circus act of how the government can cover up evidence and "debunk" UFO sightings and claims. In 1963 the department would change their leader and their mission one last time with Major Hector Quintanilla assuming lead role of "debunker", (About.com UFO/Aliens). Project Blue Book would ultimately be shut down for "lack of funding" on December 17, 1969 by Secretary of the Air Force Robert C. Seamans, Jr. (About.com UFOs/Aliens). However the U.S. government no longer investigates UFO sightings and/or claims, officially; but who's to say they don't investigate unofficially?
On October 15, 2008 the United States Air Force released a document instructing pilots for operational reporting. This document informed pilots on how to report unidentified flying objects (UFOs). The pilots were to note altitude, direction of travel, speed, flight path, maneuvers, visibility, and the disappearance of the flying object. They were also to treat these crafts as if they saw missiles or hostile intentions, (USAF Document 10-206, pg.37, ch.5, sec.6, par.3, item 3). The way this looks to me is if our government is so quick to dismiss other claims and "debunk" them so rapidly, why would there be a precaution for seeing UFOs? It was only three years later in September of 2011 that the previous instructions were deleted from the manual, (Revised USAF Document 10-206). Even before that document, on July 16, 1969 our government passed an Extraterrestrial Exposure Law making it illegal for the public to come in contact with extraterrestrials and/or their vehicles, (Code of Federal Regulations; title 14, sec 1211). But once again, on April 26, 1991, the government removed the law stating, "It has served its purpose and is no longer in keeping with the current policy". However the law is removed, but also "reserved". Interesting? I think so.
I can go on and on, even bring up early biblical times or make point of the pyramids or Stonehenge but in the end believing in "little green men" is entirely up to you. I wouldn't rely on our government to keep us informed since they are clearly undecided in where they stand.  So, are we alone? My answer is no. Even if people choose not to believe in aliens most of us believe in something. Whether it is religion, or science, our government or even just our own two eyes, belief in something is out there. The scary part about all this is that there are some people that don't want to believe in anything, and if you ask me I think that's scarier than any alien or conspiracy out there. 
Works Cited
About.com UFOs/Aliens  Np. 5 Feb. 2012
Aliens and UFOs Among Us bright.net Np. 5 Feb. 2012
United States Air Force Document "Air Force Instruction 10-206" 15 Oct. 2008
Pg.37, ch.5, sec.6, par,3, item 3
United States Air Force Document "Air Force Instruction 10-206" 6 Sept. 2011
Revised Omitted pg.37, ch.5, sec.6, par,3, item 3
Code of Federal Regulations 16 July 1969 title 14, sec.1211
Code of Federal Regulations 26 Apr. 1991
Revised Omitted title 14, sec. 1211