What Will Be The Next Cryptocurrency To Explode?
According to crypto experts, Hedera Hashgraph and the Ampleforth Governance Token will be the next cryptocurrency to blow up.
Every bull market brings a sea of currencies in the market and the market boom helps them sail to the top. While there are currencies that bring actual value to the system, others have fairly weak fundamentals and are swept out once a bear market arrives. Natural selection is a concept that not only applied to living creatures but also applies to the crypto market. This is where the actual value and use cases of a project help. If we look at the top currencies historically, we can see a lot of tokens from the top 50 were swept out by harsh bear markets and the currencies with good use cases and strong fundamentals are pushed forward.
The historical snapshot of the top currencies in 2016 shows how the market has evolved and how new currencies have been pushed up and swept out.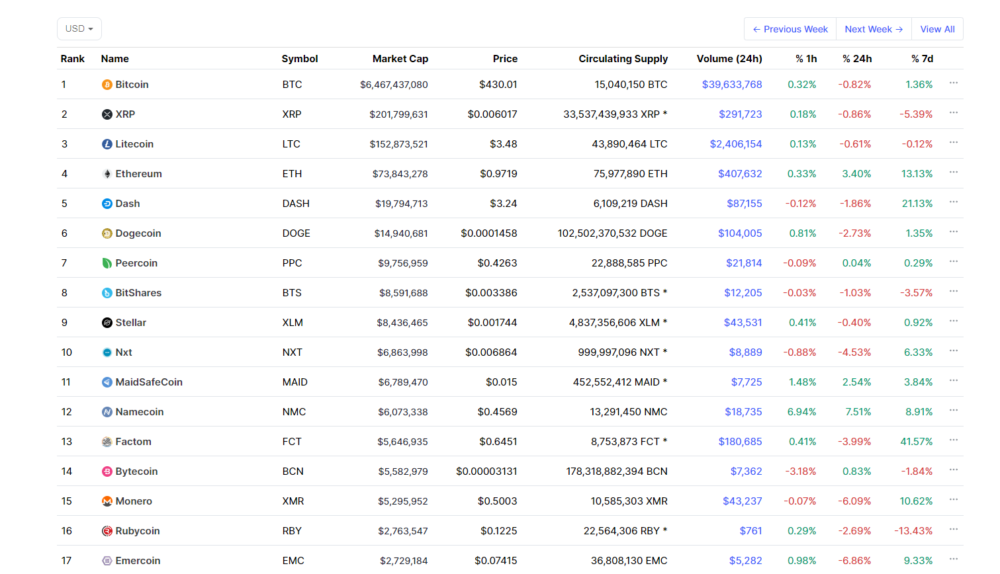 Using the same principle, we can analyze how other cryptocurrencies will soon explode in terms of price based on their strong fundamentals and roadmaps alone.
Hedera Hashgraph (HBAR)
Hedera Hashgraph is thought to be extremely undervalued currently. Ranked at #50 currently, this currency is easily worth a lot more. One can easily go as far as to call this the next payment method that not even bitcoin and Ethereum can compete with.
For a currency to qualify as a payment method, the primary requirement is to be fast. As shown in the table above, HBAR wins this competition by a mile when compared to the two giants of the market. Hedera Hashbar is also introducing smart contracts to their platform which will bring the functionalities of Ethereum in a much more scalable and flexible way. Apart from that, a lot of blue-chip companies have partnered up with the project including LG, Google, IBM, Chainlink and Boeing. Apart from this, there are also rumors that say that Hedera Hashgraph is working with the central bank for a digital dollar. All this combined with the speed, security, decentralization, and all other fundamentals makes for a currency that will explode sooner or later.
Ampleforth Governance Token (FORTH)
We're already familiar with the traction DeFi is gaining now a days. Some believe that decentralized finance is the best use case of cryptos and blockchain. Due to this, masses are looking to invest and moving towards DeFi based products. Keeping this in mind, Ampleforth recently released their governance token called FORTH.
Governance tokens help users influence the growth of a project by having the ability to vote for updates and changes that will happen in the network. This democratization of a platform's growth fulfills the promise of decentralization to its fullest.  The token is currently listed at #281 on coinmarketcap and like HBAR, it is considered to be an extremely undervalued token as of now. This is due to the fact that there are a lot of catalysts that are backing FORTH. Major crypto brokers like Binance, Gate.io, Okex, Coinbase, and Huobi have already listed FORTH on their exchanges and there are a lot of other listings in the pipeline. The most notable fact is that the CEO of Coinbase, Brain Armstrong, strongly believes in Ampleforth and has invested heavily in the project.
As for governance tokens, if we simply look at what Uniswap's governance token UNI did, we can map that to FORTH to make a conservative guess regarding the potential of a price hike.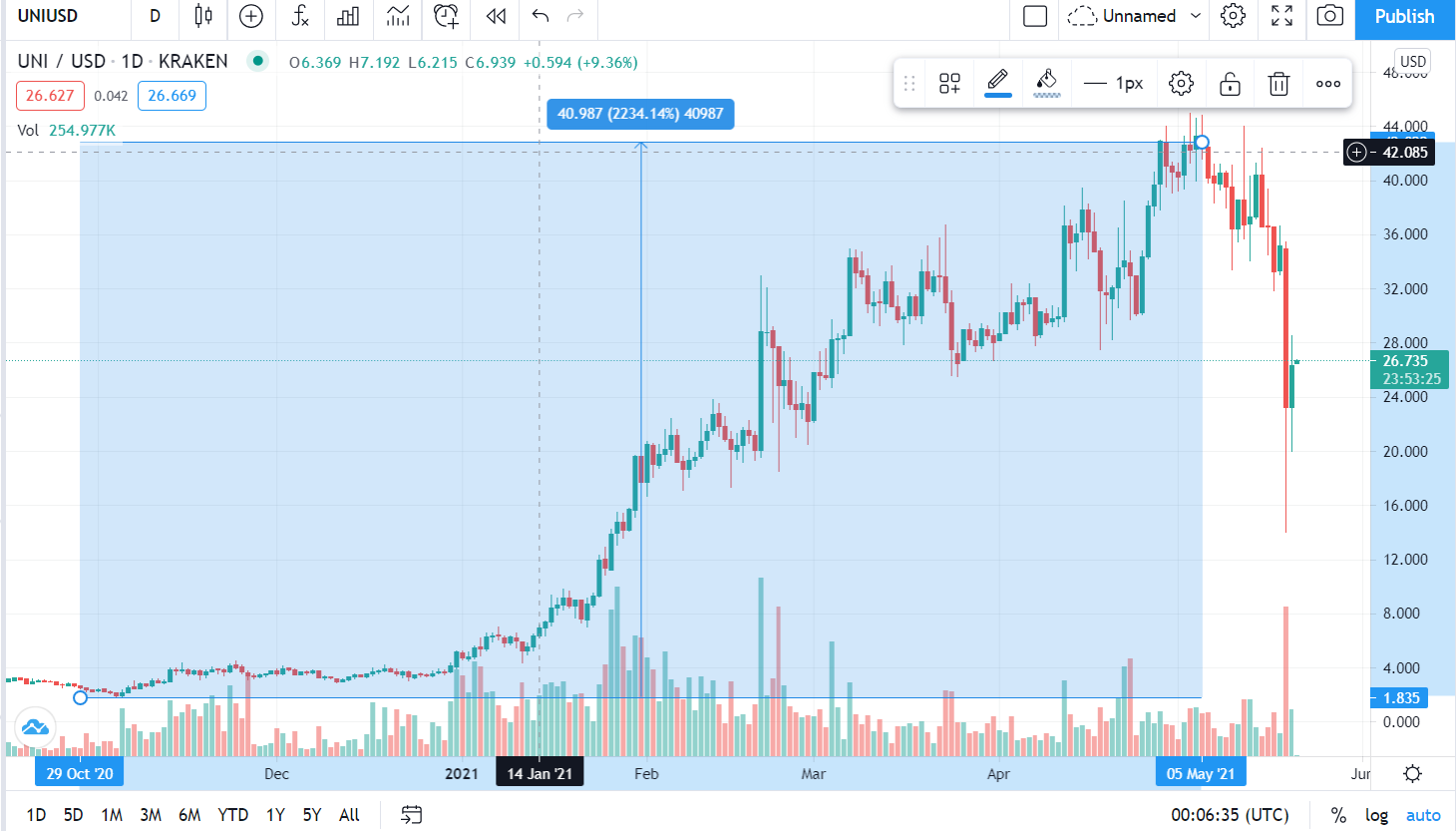 The overall gain of over 2000% in a few months is an unbelievable move and can be mapped to FORTH considering how undervalued it is as a currency.
The market has entered a phase of bearishness and most of the currencies are down 40%. This makes it a prime time to look into currencies that provide actual value to hedge against the falling behavior in the future. Considering this, FORTH and HBAR definitely stand strong in the list of such currencies.
This content is for entertainment purposes only, you should not construe any such information or other material as investment, financial, or other advice.