Is NuCypher (NU) a Good Investment?
NuCypher (NU) is considered a terrific investment opportunity and one of the most popular  cryptocurrencies on Coinbase. NuCypher is a good investment and worth buying because the digital asset has a low circulating supply, a small market cap and the digital asset is utile.
The sweet spot for investors in the crypto space are low-cap currencies with solid technological backgrounds and good use cases. NuCypher (NU) definitely checks all the boxes.
UPDATE 08/21/21: Nucypher (NU) might no longer be considered a good investment as we potentially near the middle/top half of the second bull run. Tokens like Hedera Hashgraph HBAR might be a better investment when the bear market arrives. 
Let's take a brief look at what NuCypher is and what it does. NuCypher is a data encryption and protection layer for decentralized networks and dApps. This network gives developers the ability to store and secure private data on public blockchains. Apart from data protection, this network can also be used to dynamically grand and revoke access from sensitive data on the network. All of these services are available to developers in exchange for a small fee. NuCypher uses the Proof of Stake algorithm for validation of transactions across their blockchain. As for the nodes, any user can run a node by staking the NU tokens in the network. This technologically sound use case led NuCypher to raise around $4.3 million in the initial coin offering.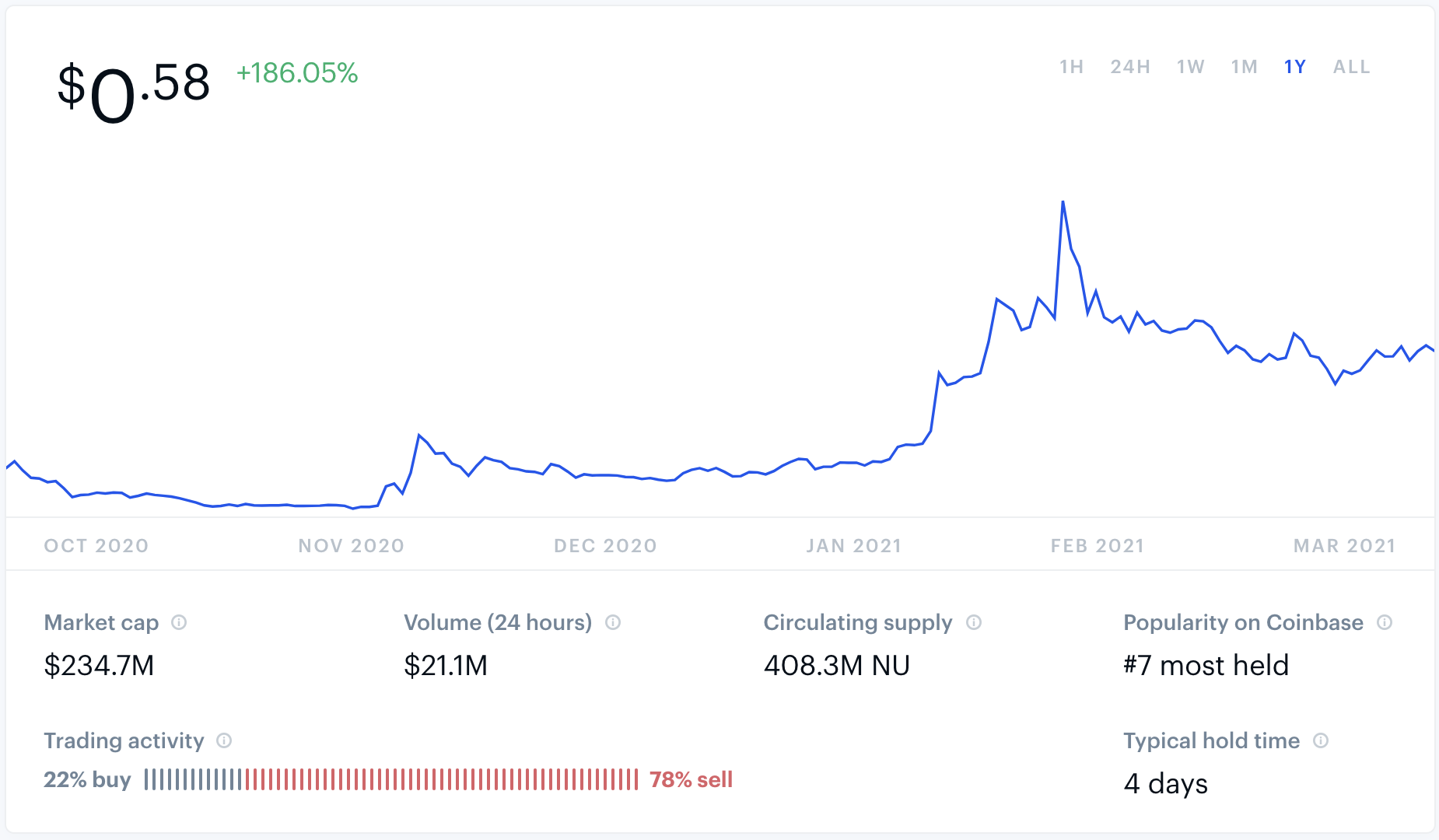 With the market maturing at a high pace, the NU token has only shown signs of maturity. The graph above shows the behavior of the NU token since its launch. Before the bull market, the token went as low as $0.15 which then surged to $0.9, a 6x growth in a few months as shown in the graph. Now, although the token faced a brief correction that landed it in the range of $0.6, the predictions for the token are still high. It is predicted that the token will go in to hit $6 in 2022 after following a steady line of growth.
At the main net launch of NuCypher in 2020, the total supply was 1 billion tokens. Apart from that, there is a release schedule according to which 3,335,938 and 4,460,000 NU tokens are released to SAFT series 2 investors and the team or equity investors every month. The network has a maximum supply of around 3.89 billion tokens.
Similar Good Cryptocurrency Investments
These digital assets have the qualities required to be considered exceptional investments and are worth buying because they may be profitable in the future.
| | | |
| --- | --- | --- |
| | | |
| Hedera Hashgraph HBAR | NuCypher NU | Voyager Token VGX |
| VeChain VET | Storj Coin | KuCoin Token KCS |
| Bitcoin | Ethereum | Verasity VRA |
NU is available on big exchanges like Coinbase Pro, UniSwap, Hoo, OKEx, Gate.io, Hotbit, and 1inch Exchange. This also strengthens the case for Nu-Cypher as technological use cases, low market cap, and support from major exchanges are all favoring NU's price surge in the near future. So, the answer to the question if NU is a good investment is surely yes for now.