Hedera Hashgraph (HBAR) To The Moon – $40
With the issue of Bitcoin's network congestion and Ethereum's spiked gas fee, people are looking for alternatives with lesser fees and higher speed. This is where the new stars of the market like Hedera Hashgraph (HBAR) come into the spotlight. Hedera Hashgraph is considered to be the 3rd generation public ledger that surpasses Bitcoin and Ethereum by giving higher speed and lesser transaction time.
https://twitter.com/thehbarbull/status/1527983094128680961?s=20&t=Sqn2dk2SSy6HrtIvsgMpSg
HBAR validates the transactions using proof-of-stake which means that, unlike Bitcoin, this blockchain does not require extensive electrical power to keep the network secure. Instead, using highly efficient staking algorithms, high speeds are ensured for each transaction.
Hedera HBAR Price predictions
The bull market has pushed a lot of coins to their all-time highs including Bitcoin, Ethereum, and many others. Talking to Peter McCormack in an interview, Lyn Alden, the investment strategist, stated that the indicators state that we're in the mid-cycle of the bull run as opposed to the end and with more institutional investors flowing into the crypto space, we might enter a super cycle where all the currencies would spike.
This brings great news for investors who are looking for currencies that do not have huge market caps. Hedera was valued at $0.03 before the bull run. Ever since the bull run started, it has reached near $0.45 and is valued at $0.33 as of the time of writing. The token was valued at $0.19 on the 10th of March and rose around 2x in the matter of one week. The graph below shows the trends of the increasing valuation for Hedera.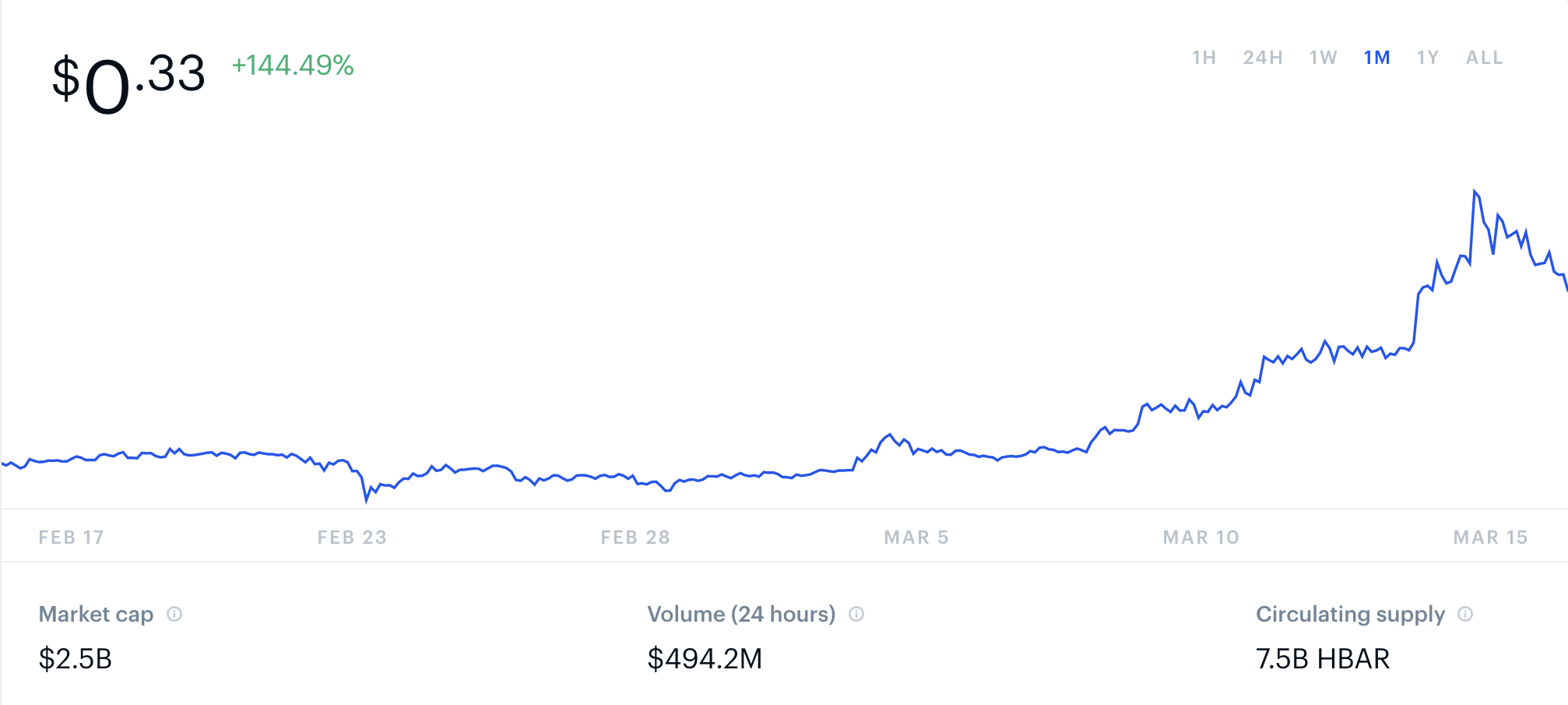 Now, since bitcoin is projected to move to $200,000, the overall market cap of the coin market is expected to increase by a lot. If the overall market cap ends up at around $4-5 trillion, we're in for huge growths for currencies with comparatively smaller market caps. With this, it can be expected that Hedera (HBAR) would end up around $4-$5 per token. If we look at the historic trends of bitcoin, the peak that occurred after the halving in 2020 compared to the last peak was 20x. This puts bitcoin at around $600,000. If this is to happen, Hedera (HBAR) can expect to rise above $10 and even touch a valuation of $40 which makes it a very lucrative option for retail investors.
All in all, technological innovation, high speeds, low fee, and a strong community has pushed HBAR at #39 in the overall coin market ranked according to their market caps. The steady surging behavior suggests that this token is still in the middle of its bull-run which might pull it to around $20-$40. Valued at $0.33, getting access to Hedera before it hits $1 would be a highly profitable move for retail investors globally.
This content is for entertainment purposes only, you should not construe any such information or other material as investment, financial, or other advice.