Hedera Hashgraph (HBAR) Price Prediction
While estimating the price of a cryptocurrency, there are a few factors to consider. The main factors are:
1. What the project is planning for their growth as a company?
2. How their token is doing historically along with the financial indicators?
To understand the price, let's take a brief look at what Hedera Hashgraph does. Hedera aims to compete with other big names of the market by providing a third generation public ledger that surpasses Bitcoin and Ethereum in terms of high speeds and low costs. It provides developers with a platform where they can build decentralized applications with real time finality.
Users nowadays are generally worried about the spiking transaction costs of these currencies and this is where Hedera comes into play by its energy efficient method of validating transactions. Hedera uses Proof-of-Stake to validate each of the transaction that is recorded in the blockchain. Unlike in the case of bitcoin, Hedera does not require heavy and powerful mining hardware as the users stake their currencies to become validators or stakeholders. Talking in numbers, HBAR can handle more than 10,000 transactions per seconds with an average fee of $0.0001USD per transaction that takes up to 5 seconds to confirm. These statistics also make the application development environment much more sustainable. Another trait of HBAR is native token issuance, which puts it right above in the league of Ethereum, Polkadot, and Cardano.
Current status:
If we look at the current situation, the HBAR token has shown somewhat of a downward trend. This correction was majorly associated with bitcoin's liquidation that took place a few days back.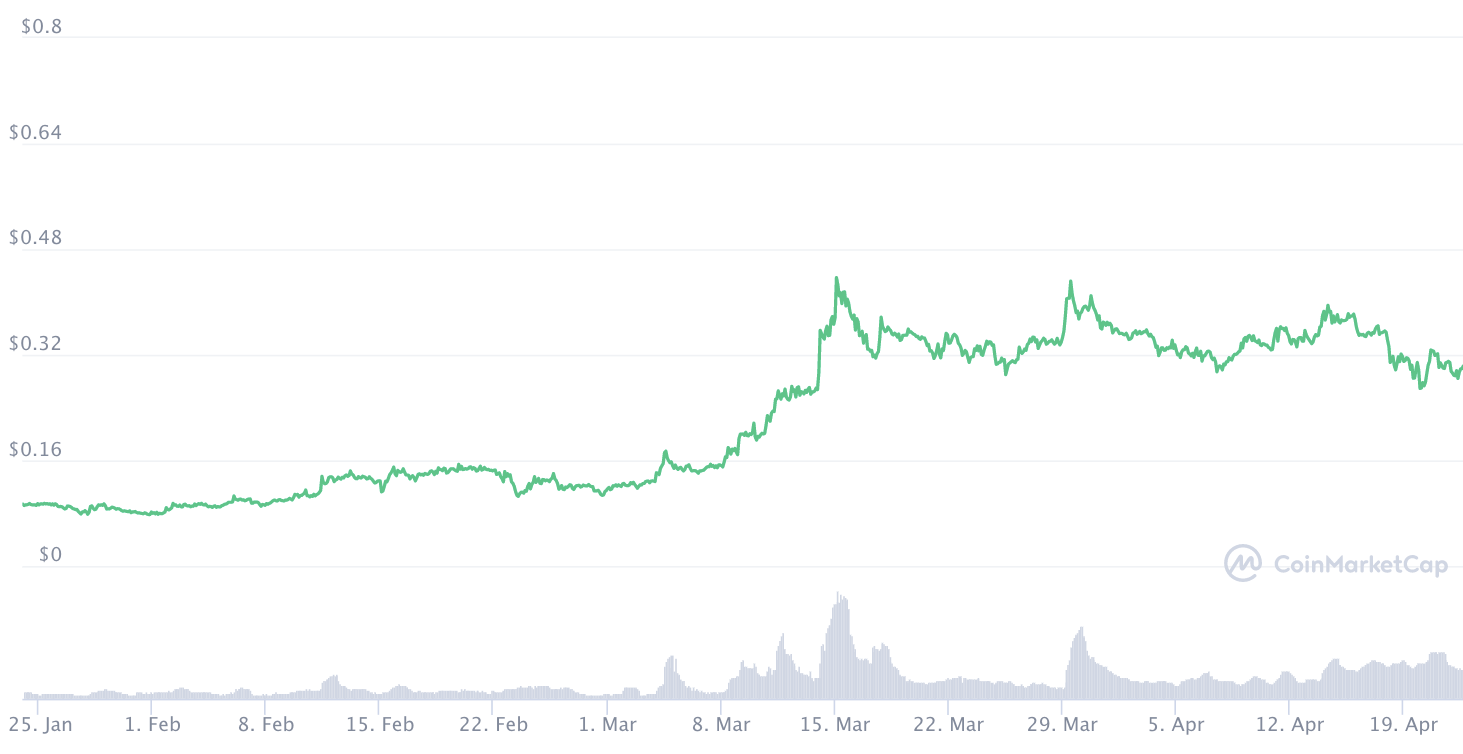 After rising from $0.09 to a peak of $0.45 HBAR has been in a period of short term correction. There has been a decrease of around 20% but swing traders and day traders might actually find an opportunity by following Warren Buffett's strategy of buying the dip. This short term dip is supposed to act as a catapult for HBAR in the long term due to the strong fundamentals.
Looking at the technical side of the project, Hedera Hashbar is soon introducing Smart contracts to their platform along with staking facilities which will massively increase the utility of the token and make the platform flexible. Ethereum was the first to introduce the technology of smart contracts in the blockchain space which made it grow to be the second biggest currency in the overall digital market. Staking and lending have been one of the prime features of the growing DeFi projects.
Other developments in the Hedera Hashgraph's ecosystem are the inclusion of 19 other members in Hedera's governing council. Currently, there are huge companies like LG, Google, Chainlink, Boeing and IBM in the council and there's a potential for more blue-chip companies entering their ecosystem. This definitely would affect the price of HBAR as well. Furthermore, Hedera is also working on an NFT auction demo for their community members. Apart from that, there have also been rumors that state that HBAR us working on the digital dollar with the central bank.
If all the rumors turn out to be true and HBAR continues collaborations and growth with the current pace, making an investment entry right now would be the best way to make tons of money. HBAR is still considered to be a low cap coin, and as the crypto boom progresses, core protocols and high utility is going to push this currency way up in the overall coin market.
HBAR Price Prediction
| YEAR | PREDICTED FORECAST | HIGH FORECAST | EXTREME FORECAST |
| --- | --- | --- | --- |
| 2021 | $2.75 | $4.80 | $9.00 |
| 2022 | $5.26 | $12.87 | $14.00 |
| 2023 | $7.413 | $16.41 | $19.00 |
| 2024 | $8.207 | $23.10 | $32.55 |
| 2025 | $10.552 | $28.77 | $40.33 |
This content is for entertainment purposes only, you should not construe any such information or other material as investment, financial, or other advice.