Gitcoin GTC Price Prediction
Gitcoin price prediction is the act of trying to forecast or determine its future value and amount of profit expected.
Projects with real use cases and innovation have proven to be immune to bear markets. Apart from that, these coins usually show immense growth soon after their launch and this is what to expect from Gitcoin.
Gitcoin targets a huge community, software developers, who wish to contribute to the system with their skills and get incentivized for this contribution. Developers can work on open-source software in Python, Rust, Ruby, and a lot of other languages. This platform is blockchain's version of open web tied with an incentivization layer. As of June 2021, Gitcoin has facilitated over $21 million in grants and bounties for open-source developers.
Gitcoin Price Prediction
| YEAR | PREDICTED FORECAST | HIGH FORECAST |
| --- | --- | --- |
| 2021 | $50 | $75 |
| 2022 | $125 | $400 |
| 2023 | $150 | $500 |
| 2024 | $250 | $600 |
| 2025 | $400 | $800 |
The platform also contains a crowdfunding launchpad called Gitcoin Grants that use  Quadratic funding. Apart from this, the platform also endorses learning and collaboration by working with like-minded developers and teams.
Gitcoin's platform recently released its own governance token called GTC. Although launched not long ago, GTC has risen ranks and is currently rated at #258 on coinmarketcap ranked according to market caps. The price of GTC currently stands at $7.48 at the time of writing. This price briefly hit $17.5 a little while back. Given that the coin was released only a month ago, the market cap has risen sharply but the token's price still hasn't reached close to the intrinsic value that it holds. This is partially due to the fact that the whole market is facing a bearish trend. So, it is safe to say that the token is seeking momentum which it can leverage to reach a higher price point. This momentum can be established by a bull market as well as by building partnerships. Ethereum's founder, Vitalik Buterin, has also found immense value in the platform. Endorsing the platform, Vitalik stated:
Gitcoin has led me to discover a lot of really cool Ethereum projects I previously did not know about.
Apart from this, Vitalik also showed his support by donating 49 trillion AKITA tokens to the Gitcoin community that operates through donations. Given all the above facts, analysts have predicted that the value of GTC would reach somewhere between $50-$75 by the end of 2021 or in the first quarter of 2022.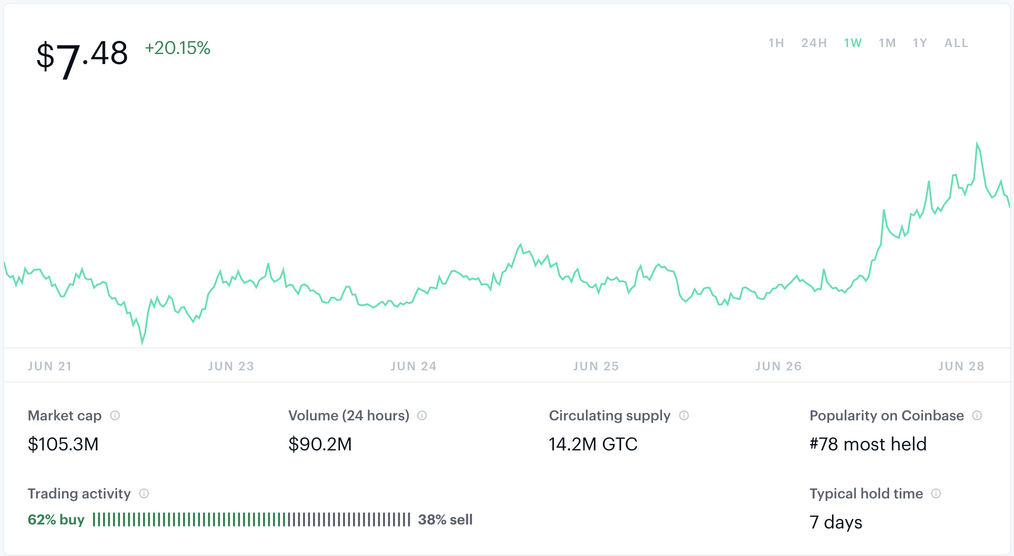 Big exchanges like Binance and Coinbase have also identified the legitimacy and potential of the coin and have listed it on their platform. Now, Gitcoin can be accessed on exchanges like Binance, Coinbase Exchange, LBank, MXC.COM, and Uniswap. Although the coin has faced a slight dump after the listings, the intrinsic value that the platform holds is much more which can be extrapolated to predict that the analysis of the coin reaching $50-$75 might actually come true.
This content is for entertainment purposes only, you should not construe any such information or other material as investment, financial, or other advice.