Chevy Silverado Won't Start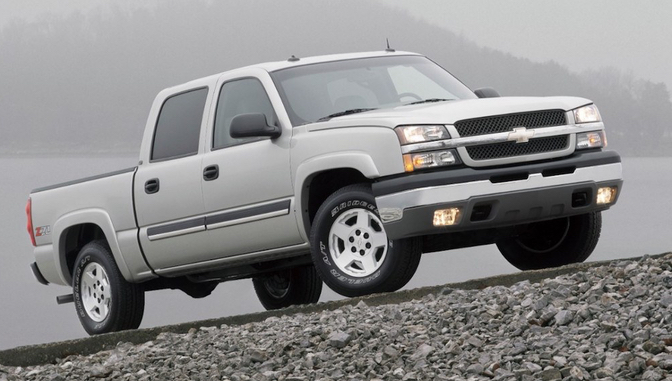 The Chevy Silverado, despite its sizes and functionalities, are fairly less complicated than sedans, SUVs and hatchbacks. That said, a Chevy Silverado truck offers more robust options for jobs that require a rugged and dependable vehicle; and rightly so more prone to faults and turnovers. One of the more exasperating issues your truck could face is that of starting it! In olden days of manual transmissions and clutches, you could push a vehicle and attempt to start it by putting it in gear and then releasing the clutch abruptly. Can't do that with a Chevy Silverado pickup truck; because its heavy and that clutch-release doesn't nearly produces enough push to ignite the engine from a dead-stop.
Here are top 5 reasons your Chevrolet Silverado will not turn on and begin to run;
1. Keystart Ignition Not Turning or Cranking
If your Chevy Silverado has a manual key-start ignition, it is most likely in "Lock" mode while you are pulling your hair apart in frustration. Try turning the key all the way. The steering wheel locking mechanism disallows the key to rotate fully until the steering lock is disabled. That can be done by pulling the key in and rotating the steering clockwise or counter-clockwise and then rotating the key to unlock the steering.
The other thing that might restrict your Silverado from starting can be crank-but-no-start issue. This is whole another game! It might pertain to the Starter. A starter is a small motor, powered by the car's battery that revs the engine into life. If you rotate the key and hear a clicking noise, it means the starter is broken and need repair or replacement.
2. Dead Battery
One of the most common reasons for the truck-not-starting predicament is a weak or dead battery. Trucks bear colossal electrical and wiring networks. They require a robust battery that can withstand the amperage of such a monumental proportion and an Alternator that regularly charges the battery while the truck's engine is running. The engine heat, an inevitable recourse in large vehicles such as a Chevy Silverado, also tears the battery's performance. So, when you turn the key and don't hear a "ding", it probably is a symptom of a dead battery. Try charging it with an automobile battery charger or jump-start it from a working battery.
3. Weak or No Spark
A spark is essential for the whole internal combustion shebang! A spark plug, then, holds a special position in starting the engine. A corroded or weak spark plug doesn't have enough in itself to spark the cylinders and enable compression. Spark plugs can be tested with spark testers of varied voltages e.g. 10KV, 20KV and 40KV. The fault in a  spark plug almost always carries the risk of other malfunctioning components such as igniter, ignition module, ignition coil and distributor. So, might as well check those!
4. Faulty Fuel Pump
Afterall, it is the fuel (and air)  that starts and keeps an engine running. If your truck isn't starting, it might be due to a bad fuel pump. A fuel pump essentially sprays fuel into the fuel injector. When you turn the key for ignition, you can hear a buzzing sound that indicates a normal, working fuel pump. If you don't, check the fuel pump for leakages or clogging. Checking the fuel system is a two-person job so have an assistant at standby.
5. Faulty Valve Timing and Low Compression
There are so many types of valve trains, but nearly all of them open after the camshaft presses the lifter in a cylinder. There is a certain melody to this process that needs to be carefully maintained. If this melody, known universally as valve timing, is disturbed; it might lead to no-starting. If the valve timing; the precisely periodic opening and closing of the valves via the camshaft, is skewed, it may distort or disfigure the valve itself. You can forget about any other issues in an engine if that happens!
Then there is this issue of low compression. An engine with low compression runs faster than an engine with good compression. So, faster is not always better! Low compression stems from a ragged or torn timing belt. As you attempt to start, this frayed timing belt will make a high-pitched, squeaky noise and spin a lot faster than normal.
All of these issues can prevent your Chevy Silverado from starting. Another thing, not a reason per se but an oversight, is an empty or low-filled fuel tank. Try filling it with fuel and you might not need hazing your head with other issues.
Chevy Silverado Won't Start
These top 5 reasons why your truck won't turn over and run properly apply to Chevy Silverado vehicles.
Year
Model
Engine
1998
1999
2000
2001
2002
2003
Chevy Silverado
1500
1500HD
2500HD
3500HD
4.3 L Vortec 4300 V6
4.3-Liter Vortec 4800 V8
5.3-Liter Vortec 5300 V8
6.0L Vortec 6000 V8
8.1 L Vortec 8100 V8
6.6 L Duramax V8
2000
2001
2002
2003
Chevy Silverado
1500
1500HD
2500HD
3500HD
4.3 L Vortec 4300 V6
4.3-Liter Vortec 4800 V8
5.3-Liter Vortec 5300 V8
6.0L Vortec 6000 V8
8.1 L Vortec 8100 V8
6.6 L Duramax V8
1998
1999
2000
2001
2002
2003
Chevy Silverado
1500
1500HD
2500HD
3500HD
4.3 L Vortec 4300 V6
4.3-Liter Vortec 4800 V8
5.3-Liter Vortec 5300 V8
6.0L Vortec 6000 V8
8.1 L Vortec 8100 V8
6.6 L Duramax V8
2005
2006
2007
2008
Chevy Silverado
1500
1500 HD
2500 HD
3500 HD
4.3 L Vortec 4300 V6
4.3-Liter Vortec 4800 V8
5.3-Liter Vortec 5300 V8
6.0L Vortec 6000 V8
8.1 L Vortec 8100 V8
6.6 L Duramax V8
2009
2010
2011
2012
2013
Chevy Silverado
1500
1500 HD
2500 HD
3500 HD
4.3L Vortec 4300 V6
4.8L Vortec 4800 V8
5.3L Vortec 5300 V8
6.0/6.6L Vortec 6000 V8
6.6L Duramax V8